Legacy HD Pump GT Series 5.6GPM@3500PSI #GT5635R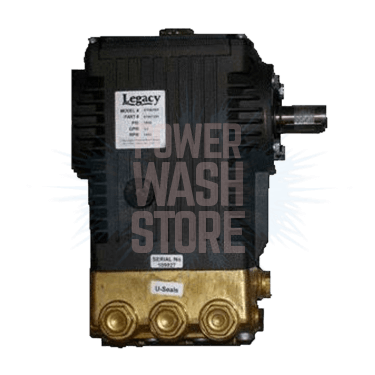 $479.00
$375.00
Legacy HD Pump GT Series - Belt Drive, 5.6gpm @ 3500psi, 1450rpm, 24mm shaft, 1/2" inlet x 3/8" outlet, 33lbs
Legacy HD Pump GT Series
Features:
Belt Drive
5.6 GPM @ 3500 PSI
13.5 Horse Power
1450 RPM
24 mm Shaft
1/2" Inlet x 3/8" Outlet
33 lbs
Why Choose Legacy?
Using a Legacy Pump can increase the profitability of your business. A Legacy Pump reduces the amount of water needed to run your car wash. It eliminates maintenance needs and untimely breakdowns in the contract cleaning industry.
Legacy Pumps have a higher oil capacity, giving it a better ability to lubricate the moving parts, reducing friction and extending the life of your pump. They keep on pumping when you need them most, including in cases of fire suppression, when lives are at risk. Only the most high-quality parts are used in the production of these durable pumps, giving them a longer and more dependable life and requiring much less maintenance.
Reviews for:
Legacy HD Pump GT Series 5.6GPM@3500PSI #GT5635R
No reviews to view yet. Be the first to leave feedback!