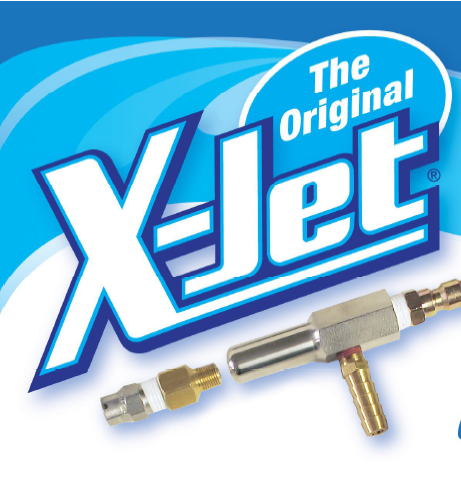 X-Jet Original Kit #XJET-13K 4.0-4.5GPM
Part Number: 2641SKU: 2641
Warning California Proposition 65 Detectable amount of chemicals known to the State of California to cause cancer, birth defects or other reproductive harm may be found in pressure washing equipment, accessories and exhaust. For More Information Visit www.p65warnings.ca.gov
Adding this item to your cart will qualify your order for free shipping.
Shipping Policies
X-Jet Original Kit #XJET-13K 4.0-4.5GPM
Inject and proportion soaps, chemicals, or other liquids at high pressure without going through your pump, hose, gun, or lance. The X-Jet can project liquids to vertical heights over 40 feet depending upon the capability of your pressure washer. It can be used with virtually any pressure washer, hot or cold.
Original X-Jet Nozzle Uses:
Wash and remove mold, dirt, and mildew from various structures without using ladders or scaffolding.
Sterilization of housing areas for agricultural needs
Caustic spraying that requires using harsh chemicals that can destroy pumps
Dispensing proportion insecticides
De-greasing heavy equipment using high-pressure soap without going through the pump
Original X-Jet Nozzle Kit Includes:
15' clear vinyl tubing
X-JET long range nozzle
Quick connect plug on X-JET inlet
Hose barb for chemical injection hose
Spray nozzle orifice (internal)
Low-pressure adapter
Low-pressure soap nozzle
14 detergent proportions
Shut off ball valve
Filter screen with hose barb

No documents to display at this time.
Related Categories
>

>

>

>

>

>

>

>

>

>

>

>

>

>

>

>

>

>

>

>

>

>

>

>

>

>

>

>

>