The Professional Choice for Power Washer Supplies
Pressure Wash Service & Support from Industry Professionals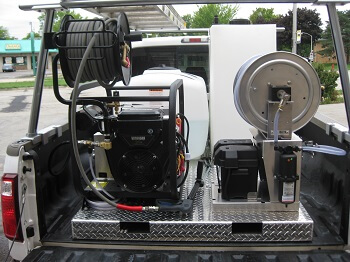 The Power Wash Store has been serving the needs of the pressure wash industry since 1993. We aren't in the pressure washer business to simply sell you a product and then kick you out the door. We're here because we believe in helping people become better at what they do.
Paul Kassander started The Power Wash Store in 1993 after many years running his own successful pressure washing company. He found many of his product suppliers couldn't answer his questions and lacked any practical knowledge of the pressure washing business.
Oftentimes, suppliers couldn't even explain the basic functions of the machines they sold.
The Power Wash Store is more than just a supplier for pressure washing contractors. We are advocates with years of experience who are here to help you run a more profitable business. The Power Wash Store supplies customers with more than just pressure washers and chemicals, we arm them with the knowledge to successfully navigate competitive markets.
When a supplier isn't well-versed in their customers' business, they aren't able to adequately serve the customers' needs.
Providing Service and Education to Power Wash Contractors
Paul's commitment to service began with his time in the US Army. Starting as a range instructor, he later became a Drill Sergeant, and was eventually selected for a pilot program to become an Army ROTC instructor at Marquette University in Milwaukee, WI. He even led marksmanship training at West Point.
Fast-forward to present day, and Paul is still teaching.
When he's not teaching fellow power washers how to diagnose and fix their own machinery, he's leading training events at United Association of Mobile Contract Cleaners (UAMCC) events. Paul and the Power Wash Store team have also helped write the UAMCC standards for fleet washing and wastewater recovery.
Here's another reason to love and trust Paul Kassander and The Power Wash Store: in his spare time, Paul also tinkers with pressure washer machines to get to know all their parts better. This has allowed him to create his own proprietary brand of pressure washer, Water Dragon. It's one of the best on the market. Water Dragon is created for professional contract cleaners by professional contract cleaners.
In the Corner for All Commercial Cleaning Contractors
The Power Wash Store is here for every professional pressure washing contractor. We are committed to becoming more knowledgeable about all aspects of our industry.
To maintain our certification with the UAMCC, we're required to devote a certain number of hours to training every year. This means we're always at the forefront of pressure washer innovations and technological breakthroughs.
Our knowledge and background means we have a lot to live up to, but as today's professionals know, we have even more to offer. If you have a need for power washer parts or information on how to better complete the job, we can help.
Our expertise covers the full spectrum of commercial and residential cleaning:
Window cleaning
Roof cleaning / soft washing
Hood / exhaust vent cleaning
Concrete cleaning
Dumpster cleaning
Wood restoration
House cleaning—interior, and exterior, carpets, etc.
Paver / masonry washing
Parking garage cleaning
Fleet / truck / heavy industry
Wastewater recovery
Wastewater treatment
We know the products and brands best for every application. We know which parts you'll need and how to use them. We recommend products to help you do the job better and more efficiently.
Isn't that how a supplier should act?
Cleaning Contractor Community Grows Together
We've been able to grow because we help our clients grow. The relationship is interactive and synergistic. We have faithfully fostered an entire community of people helping each other through a network of information sharing.
Every service contractor has suffered from downtime caused by equipment failures in the field. Our service advisors will talk you through field repairs and arm you with the knowledge to reduce or prevent expensive equipment breakdowns.
From properly sizing nozzles to plumbing your own equipment, we're here to answer all of your pressure washing questions.
The exchange of ideas is a two-way street, and we always love hearing about ingenious solutions to tricky problems. If you have any questions about power cleaning products or equipment, or if you've discovered some tips or tricks you want to share with the power washing community, call or email our pressure washing advisors today.