Flat Surface Cleaners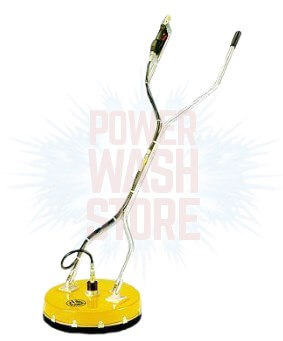 Clean Driveways, Patios, Garages & More
Whether you're cleaning a residential, commercial, or industrial garage, hall, or other similar space, Power Wash Store has a stock of flat surface cleaners available to assist you in your assignments. Our flat surface cleaner brand lineup includes General Pump, HydroTek, Legacy, Mosmatic, Sirocco, Steel Eagle, and Whisper Wash surface cleaners.
The Whisper Wash – Classic 2 Nozzle and Whisper Wash – Class 4 Nozzle are two of the industry's most popular flat surface cleaners. The 4 nozzle provides double the power making sure you can power through the toughest grime. The Whisper Wash – Big Guy 4 Nozzle provides the same great cleaning power but over a wider area, letting you finish the big jobs faster.
Designed as affordable powerhouse cleaners, these products will help you quickly and effectively wipe surfaces clear of dirt, grime, and other debris. Perfect for cleaning companies and janitorial employees around the U.S., our flat surface cleaners are sold online for the convenience of you and your company.