Pressure Washer Hoses & Equipment

Hoses for Pressure Washing, Chemicals, & Water Recovery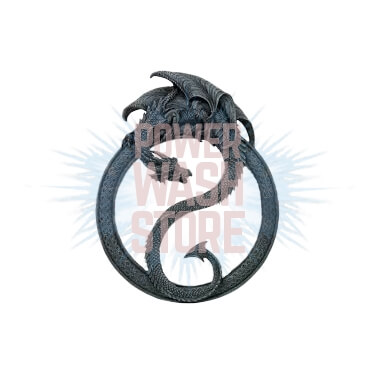 Our high-abrasion-resistant, non-marking black hose. Rubber construction throughout, with a double layer of steel wire braid, the hose of choice for heavy-duty cleaning applications. All this and 6 lbs lighter than a standard 2 wire hose!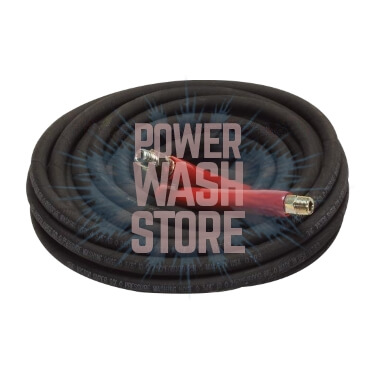 All standard 3/8" assemblies include 1 solid end and 1 swivel end, 8" molded vinyl color-coded bend restrictors (both ends), temperatures up to 275°F, 50% more flexibility, wrapped impression, maximum oil resistant tube and cover.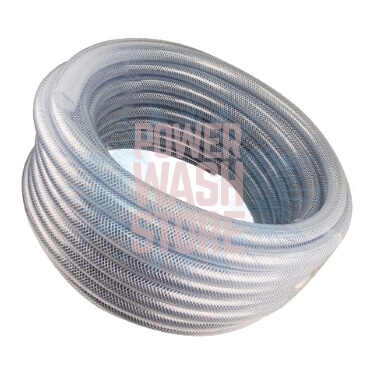 300 feet of chemical tubing lets you clean anything from almost anywhere. 1/2" x 3/4" clear reinforced poly braided tubing, working pressure 175 PSI, burst pressure 1000 PSI. Be prepared during even the dirtiest jobs with the toughest tubing.
Pressure Washer Hoses & Supplies
What value would a hose reel and swivel have without a hose to begin with? With hoses built for water and chemical liquids, Power Wash Store provides every type of hose you need to be successful in your cleaning business.
Your traditional garden hose is available alongside the more commercial chemical, jumper, pressure, sewer jetting, and vacuum hose options. Our hoses cover a number of applications, meaning you'll have the tools you need to perform any job you're executing, including agricultural, pest, nursery, and building sprays.
Products