Hot Water Pressure Washers
Pressure Washer Engine Types
Hot water pressure washers are available as both gas-powered and electric. If you are looking to purchase a hot water pressure washer for small projects around the house or need to clean indoors consider going with an electric engine pressure washer. Gas Pressure Washers provide more power than their electric counterparts which makes them ideal for extremely tough jobs and also provides more mobility.
Hot Water Pressure Washers Models
We carry a wide selection of pressure washers from a variety of brands including Pressure Pro, Largo, & Hydro Tek. Not only does our supply make it simple for you to make your decision based on your price range, but depending on what type of engine you're looking for, all you have to do is find your perfect match! Take a look at our hot water pressure washers above and give our electric and diesel engine pressure washing equipment a look.
Hot Shot Series

HD Series

HN Series

HP Series

SCU Series

SCX Series

SS Series

SC Series

SM Series

PWS
The Advantages of Hot Water
Hot water helps loosen stubborn oil and grease from surfaces that would otherwise take you hours, if not days, to wipe clean. Cleaning patios, garages, and other surfaces require the power hot water pressure washers bring to the table. Without these specialty machines, it'd be easy to fall behind and cause a domino effect of failure. Preserve your company's success and invest in one of these hot water cleaners today.
Financing Your New Pressure Washer
Finding pressure washing equipment for sale at reasonable prices can be difficult unless you're shopping at the Power Wash Store. Not only are our products high quality, but you can set up a monthly payment plan with select models so you don't have to worry about taking out a loan to keep your business running efficiently. Industrial and commercial companies and even regular homeowners all benefit from having one of these high-power machines on their properties. Don't take on bulky cleaning assignments by hand - get it done fast with our hot water pressure washers!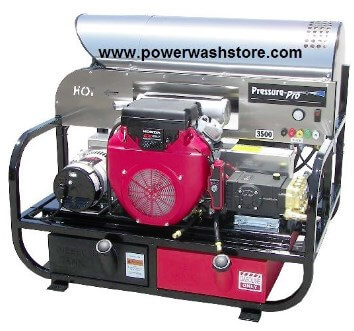 Hot Water on Demand
Bring hot water to your work site with hot water power washer systems from the Power Wash Store. Perfect for cleaning surfaces that may have grease, oil, or other tough-to-clean stains. Hot water power washers can come in two set-ups: all-in-one or add-on.
All-in-one systems are exactly what they sound like. The heating element is attached to the power washer pump in one compact piece like the Pressure-Pro – Hot Series Portable. These systems are perfect for the specialist power washer who needs a compact unit able to bring hot water to their jobs.
Add-on systems give your current power washer versatility without purchasing a dedicated hot water power washer. Hot Link hot water generators, like the Hydro Tek – 115, connect to your current power washer providing clean hot water without the need for a dedicated unit.