Hot Water Pressure Washers - Gas & Electric
The Exact Hot Water Pressure Washers You've Been Looking for
Finding pressure washing equipment for sale at reasonable prices can be difficult unless you're shopping at the Power Wash Store. Not only are our products high quality, but you can set up a monthly payment plan with select models so you don't have to worry about taking out a loan to keep your business running efficiently. Industrial and commercial companies and even regular homeowners all benefit from having one of these high power machines on their properties. Don't take on bulky cleaning assignments by hand - get it done fast with our hot water pressure washers!
Hot Water Pressure Washers for Sale:
Hot Shot Series

HD Series

HN Series

HP Series

SCU Series

SCX Series

SS Series

SC Series

SM Series

PWS
From the SM Series to the HP Series and the SCU Series to the Shark brand, our hot water pressure washers selection is HUGE and gives you a large array of options to decide between. Not only does our supply make it simple for you to make your decision based off of your price range, but depending on what type of engine you're looking for, all you have to do is find your perfect match! Take a look at our hot water pressure washers above and give our electric and diesel engine pressure washing equipment a look. When you see the one you want, contact us today to place your order!
Hot Water Pressure Washer Engine Types:
Hot water helps loosen stubborn dirt and oils from surfaces it would otherwise take you hours, if not days, to wipe clean. Washing the surface of cars, buildings and other surfaces requires the power hot water pressure washers brings to the table. Without these specialty machines, it'd be easy to fall behind and cause a domino effect of failure. Preserve your company's success and invest in one of these hot water cleaners today. The Power Wash Store helps you save money and time by making it easy to find the pressure washing equipment within your price range - call us today!
Other Pressure Washer Options at the Power Wash Store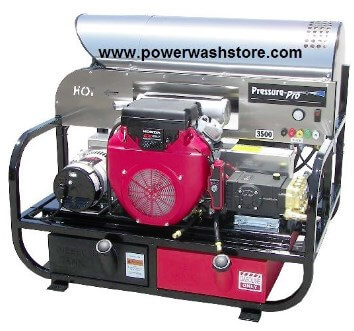 Hot Water on Demand
Bring hot water to your work site with hot water power washer systems from the Power Wash Store. Perfect cleaning surfaces that may have grease, oil, or materials that break down in heat. Hot water power washers can come in two set-ups: all-in-one or add-on.
All-in-one systems are exactly what they sound like. The heating element is attached to the power washer pump in one compact piece like the Pressure-Pro – Horizontal Pro Super Skid. These systems are perfect for the specialist power washer who needs a compact unit able to bring hot water to their jobs.
Add-on systems give your current power washer added versatility without the need to purchase a dedicated hot water power washer. Hydro Tek 12v Hot Link and Hydro Tek – 115v Hot Link hot water generators connect to your current power washer providing clean hot water without need of a dedicated unit.