Pressure Washers for Sale
Gallons per Minute vs. PSI
The two most important factors for a pressure washer are gallons per minute (GPM) and pounds per square inch (PSI). These measurements serve different purposes. A pressure washer's PSI determines how deep of clean you are able to achieve and GPM is the water output. Having too low of a PSI may not clean as deeply as you need to and having too high of a PSI can lead to damage. You wouldn't want to blast a hole through your siding when you just want to clean the dirt off. Having too low of a GPM output means it'll take longer to clean large surfaces and too high of a GPM can lead to excess water and leave your work area soaked.
| | | |
| --- | --- | --- |
| Cleaning Task | PSI | GPM |
| Removing tough stains | + | - |
| Cleaning large surfaces | - | + |
| Removing loose debris | - | + |
Cold Water, Electric, Gas, & Hot Water Pressure Washer Machines
Sometimes, a regular old garden hose just doesn't get the job done; removing hooligans' graffiti; cleaning leaked oil on your driveway that's been there for years; blasting paint chips from the side of your house; getting your neighbor's dog out of your yard for the last time; etc. For those times, you need a pressure washer.
Cold Water vs. Hot Water Pressure Washers
Should I get a cold water pressure washer or a hot water pressure washer? The answer depends on what you need to clean. Cold water is great for high volume jobs such as cleaning off dirt and debris but can struggle to remove tougher oil and grease stains. This is where hot water pressure washers not only shine but bring the shine back to your newly cleaned surface. Hot water machines cut through tough stains easily and use less detergent.
Electric vs. Gas Pressure Washers
Electric pressure washers typically have a lower PSI than gas pressure washers and usually require less maintenance. They also do not produce fumes which allows them to be run in places with poor ventilation, like garages. Gas pressure washers are more suited to heavy outdoor use as they are only limited by the hose connecting them to the water source and not.
Specialized Pressure Washers
Some pressure washer attachments are designed for specific purposes. Flat surface cleaners offer a wider cleaning area to make the job faster. These work great for cleaning patios, decks, driveways, and any flat surface you need cleaned. Underbody cleaners are able to get underneath vehicles and clean dirt, salt, and oil from the bottom of your vehicle to prevent rusting.
PRESSURE WASHER DETERGENTS:
Make your job even easier with pressure washing detergents. Detergents provide extra strength help to clean tough grease and oil stains as well as mold, mildew, and algae. We carry detergents to suit your every need from the best brands on the market.
---
---
Best Pressure Washer Brands: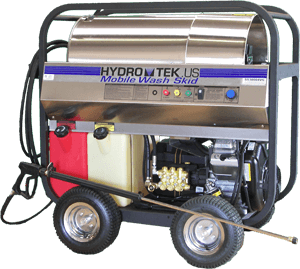 Pressure Washer Cleaning Applications:
Graffiti from walls
Washing your car
Cleaning oil spots from your driveway
Washing windows on a tall building
Washing windows on a short building
Washing your roof
Soft washing
Washing your siding
Cleaning fleets
Pressure Washers for All Types of Cleaning
The Power Wash Store carries all types of pressure washers: gas, electric, hot water, cold water, high-GPM, high-PSI, etc. Shop The Power Wash Store's wide selection of pressure washers to find the best pressure washer for your job.