Pressure Washers for Sale
Cold Water, Electric, Gas, & Hot Water Pressure Washer Machines
Sometimes, a regular old garden hose just doesn't get the job done; removing hooligans' graffiti; cleaning years of leaked oil from your driveway; blasting paint chips from the side of your house; getting your neighbor's dog out of your yard for the last time; etc. For those times, you need a pressure washer.
Best Brand Pressure Washers:
Picking the right pressure washer for the job you need to get done is important. If you get a pressure washer with too much PSI and not enough GPM, you could blast a hole in the side of your house and expose the insulation instead of washing off dirt and removing paint chips like you intended to do. If you choose a pressure washer with too high a GPM and not enough PSI, you could have a lake sitting at the bottom of your still-graffitied wall.
---
Related Products:
---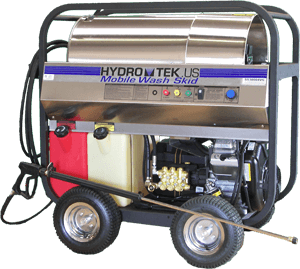 Some Pressure Washer Cleaning Applications:
Graffiti from walls
Washing your car
Cleaning oil spots from your driveway
Washing windows on a tall building
Washing windows on a short building
Washing your roof
Soft washing
Washing your siding
Cleaning fleets
Pressure Washers for All Types of Cleaning
The Power Wash Store carries all types of pressure washers: gas, electric, hot water, cold water, high-GPM, high-PSI, etc. Shop The Power Wash Store's wide selection of pressure washers to find the best pressure washer for your job.