Gas Pressure Washers
Gas Pressure Washers for the Hardworking Cleaner
In the market for pressure washing equipment? Power Wash Store has stocked our shelves to the brim with the gas pressure washer units you're looking for. From the Pro-Max Series to the Eagle Series, Pro Series and PWS Contractor Series, our selection covers a wide range of options so you can quickly eliminate the products you aren't interested in and select the perfect pressure washer without spending hours on the internet with other companies battling with each other for your attention. Take a look through our pressure washing equipment above or call us today for assistance finding what you're on the hunt for!
Types of Gas Pressure Washers:

Pro-Max Series

Eagle Series

Pro Series

PWS Contractor Series

From cold water to hot, what type of water are you able to use with gas pressure washers? The answer comes down to the capabilities of the specific unit you order. When purchasing a model, make sure you've taken a look the pressure washer handles. It may be just be hot water, it may just be cold water, it may be both! As long as you shop with Power Wash Store, you will have have different options available.
What Type of Water Can I Use?
Shopping online for high power gas pressure washers can be difficult when all you have to scroll through are endless search results from companies around the world. Instead of using your day for repetitive work, come straight to Power Wash Store every time you need a replacement unit and streamline your shopping with the help of our pressure washing equipment products. Have any questions? Contact us today for assistance and we'll do our best to match you with a unit suited for the types of jobs you execute!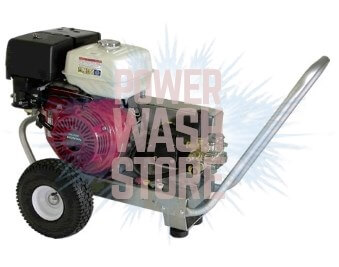 High Flow at All Price Points
With their high flow and cheaper price point gas pressure washers deliver incredible value for what they do. Perfect for professional painters, roofers, and cleaners, gas pressure washers deliver when you need it the most.
Hitting the perfect mix of gallons per minute, pressure, and price the Pressure Pro – Pro-Max Series 5.6@2500 is best for those who need to get work done while thinking of their budget. The Pressure-Pro – Pro-Max Series 8.0@3500 delivers the gallons per minute that is needed at a price that is significantly cheaper than an electric model.