Electric Pressure Washers
Electric Powered Pressure Washers for Sale
The Power Wash Store's selection of pressure washing equipment spans across all hot and cold water options and includes gas and electric powered pressure washers for you to choose from. Starting with our electric engine machines, customers have two main series to choose from: the Pro-Max and Eagle Series. Both are great options for workers who have to take care of large surfaces in all climates of the world. Mechanics, professional cleaners and general laborers all benefit from purchasing products from our supply!
Electric Pressure Washers Series:

Pro-Max Series

Eagle Series

Depending on the type of electric pressure washer you order, you will likely be able to use hot or cold water with the unit. Cold water pressure washers are better for basic cleanings of smooth building walls while hot water pressure washers are best suited for getting stubborn debris off the side of cars and textured surfaces. Not sure which type of electric pressure washer is your best match? Contact the Power Wash Store today and we'll assist you with selecting a cleaning machine perfectly tailored for the assignments you execute regularly.
Pressure Washer Water Options:
The Power Wash Store has been supplying pressure washer enthusiasts with their favorite electric powered machines for years and we don't see ourselves slowing down any time soon. Our ability to find the best and most affordable pressure washers has given us an edge on our competition and drastically cuts down the amount of time you spend looking for products you don't want to lose hours on. Can't find what you're looking for? Check out the other pressure washers sold at Power Wash Store: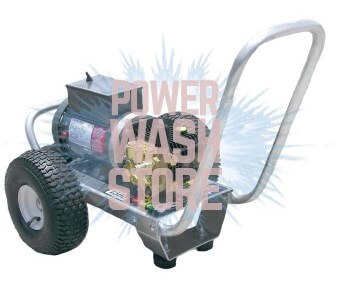 Quite and Powerful
Electric power washers deliver the same force that traditional power washers do with considerably less noise. The reduced volume and lack of fumes makes electric power washers perfect for power washing in confined spaces that may lack ventilation.
The high pressure Pressure-Pro – Pro Max Hp Series 4.5@6000 and the slightly less powerful Pressure-Pro – Pro Max Hp Series 4.5@3500 are perfect for industrial power washing. Whether it's cleaning a room or coating a surface with chemicals, these will get the job done. The Eagle Series Electric Pressure Washer #EE3530G 3.5@3000 is perfect for home owners and contractors who want to invest in a power washer instead of renting.