Roof Cleaning Products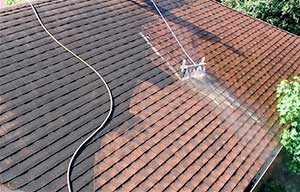 Roof Cleaning Products
As one of the hardest surfaces to clean, roofs are constantly exposed to the elements and have the stains, damage, and debris to prove it. Having the right equipment for a roof cleaning job is imperative, as it gives cleaning companies a true reflection of their hard work.
Customers invest a lot of money in the maintenance of their buildings, so using the best equipment possible for your clients will only reflect further the true care you have for their business with you. Complete roof cleaning carts, generation twin pump systems, and Water Dragon products are all sold online with Power Wash Store, giving you the roof cleaning products you need to perform the best cleanings for your clients.
Finish the Job Faster
Having the right equipment makes all the difference. Upgrading your current equipment with Power Wash Store solutions that make sure you are busy working instead fighting your current equipment. The Pro-Portioner makes sure you never have to worry about wasting chemicals when transitioning work. Instead of making chemicals in batches that can be in quantities you just don't need, or for some reason you are just short the Pro-Portioner will make sure you have the concentration you need without all the hassle of waste.
The Generation II Twin Pump System with Titan Reel lets you quickly and safely power wash and apply chemicals over 40' in the air. Its successor, the Generation III Versajet Twin Pump System with Titan Reel, is able to deliver 6 gallons per minute and 70 psi per pump with dual pump applicator.
Products