Mosmatic Gum Remover Recovery Surface Cleaner 21" #5226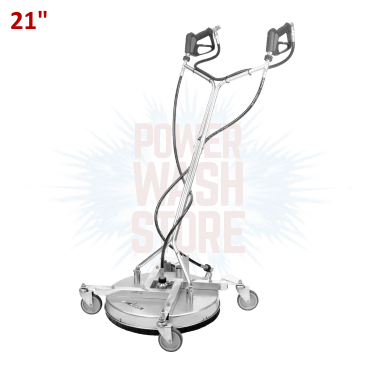 | | |
| --- | --- |
| Check Box To See Price: | |
| Gum Remover Nozzle: | |
Out of Stock
44lbs - DYCI Swivel - 1/8" Nozzles - 5000psi - 3/8" NPTF inlet - 250 degree
Mosmatic 21" Gum Remover Recovery Surface Cleaner Model FL-AHB-KAU 520
The Mosmatic surface cleaner with recycling function is perfectly suited for cleaning large surfaces inside and outside. The dirty water is suctioned, treated by the mobile recycling system and then used again for the same cleaning process. The machine is designed for professional cleaning and long-lasting durability.
44lbs
DYCI Swivel
1/8" Nozzles
5000psi
3/8" NPTF inlet
250 degree
Special Nozzle
The special nozzle for removing chewing gum is installed on the back of the surface cleaner and, together with the high-pressure pistol mounted on the left, can be turned on when needed. Several small nozzle outlets break up the chewing gum into many small pieces. A fast and effective way of dealing with hardened chewing gum.
Recycling Function
The used water including the residue is suctioned through the double-walled housing. Using a recycling system, the water can be recovered. The process is eco-friendly because the water that has already been used during cleaning can be used again.
Height Adjustable Housing
Different floor textures require height-adjustable housing. Four adjustable screws are used to adjust the housing to the floor. The suction power is also significantly improved by adjusting the housing.
High-Quality Swivel
The centerpieces of a Mosmatic Surface Cleaner is it's swivel. It is reinforced with self lubricating, stainless steel ball bearings with a carbide gasket system. They are specially designed for high revolutions ensuring long lasting durability.
Rotor Arm
The turbo rotary arm must withstand high revolutions, so a precision robot takes over the necessary welding tasks. The rotary arm is also counterbalanced and precisely equilibrated, which prevents dangerous vibrations.
Splash Protection
The brush ring prevents splashing and injuries from loose pebbles. It is soft and elastic but extremely effective thanks to the thickness of the bristles. It is also available with a plastic ring for interior cleaning.
Relax-Action Function
Ease of use and fatigue-protection thanks to a high-pressure pistol with ergonomic relax-action function.
INOX Castors
The surface cleaner can be manoeuvred easily and quickly, saving you time and energy.
Fork Support
If the surface cleaner is not in use, the fork support prevents the fork from coming into contact with the floor.
Polished Stainless Steel (INOX)
A Robust and an optically elegant design are the priorities Mosmatic sets for its products. There is no question of using anything but polished stainless steel (INOX) for all of our products.
Pre-Assembled
The surface cleaner is delivered almost completely pre-assembled. After opening the carton, the fork just has to be assembled with the housing, high-pressure pistol and hose according to the instructions enclosed. The surface cleaner is then immediately ready for operation.
Mosmatic Gum Remover .PDF
Reviews for:
Mosmatic Gum Remover Recovery Surface Cleaner 21" #5226
No reviews to view yet. Be the first to leave feedback!