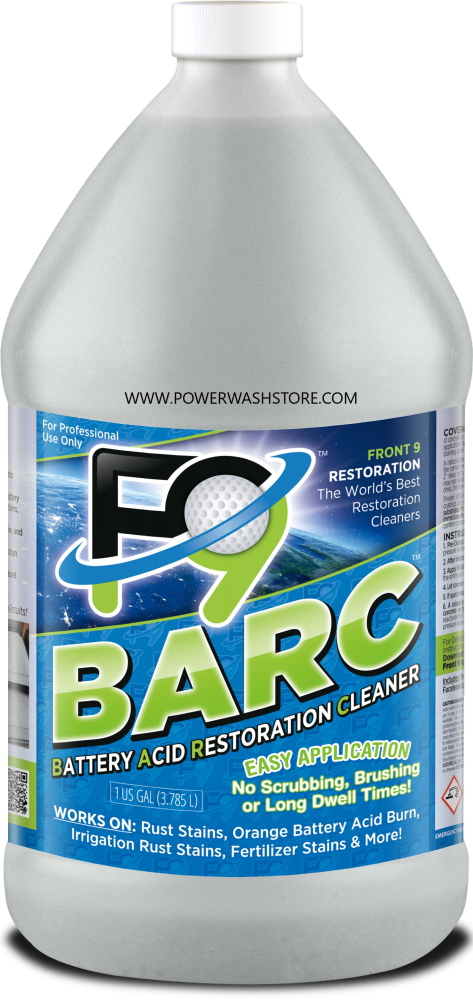 F9 BARC - 1 Gallon
Package 1 Dimensions:
Height: 7.00 Inches
Width: 13.00 Inches
Length: 7.00 Inches
Weight: 10 Lb(s) 0 Oz
Warning California Proposition 65 Detectable amount of chemicals known to the State of California to cause cancer, birth defects or other reproductive harm may be found in pressure washing equipment, accessories and exhaust. For More Information Visit www.p65warnings.ca.gov
Add
$100.00
worth of items to your cart to qualify for free shipping.
Shipping Policies
F9 BARC: The Best Rust Remover and Battery Acid Stain Remover - 1 Gallon
F9 Battery Acid Restoration Cleaner (BARC) is specifically formulated to remove BOTH battery acid staining AND rust stains.
This includes the entire spectrum of the rust family-thin, thick, topical, embedded, and fertilizer staining.
BARC is easy to apply and does not require scrubbing, brushing, or elbow grease. BARC is ready to go upon arrival and does not require mixing.
F9 BARC chemically locks into the concrete, reversing 80-100% of the orange staining and restores concrete to its natural bright gray color.
Power Wash Store also carries this product packed in 4-gallon cases and 55-gallon containers.
Before/After Images
Advantages of F9 BARC
Professional power washing is the preferred method of cleaning your concrete prior to the application of F9 BARC
Concentrated and formulated to go a long way
Quickly and easily removes orange battery acid burn, rust, and fertilizer stains
Biodegradable, non-abrasive, non-flammable
Safer to people and plants than hydrochloric acid
Restores concrete to its natural bright gray color
Does not involve mixing, brushing, or messy pastes
Does not lose strength over time
F9 BARC Videos
F9 BARC: What Kind of Sprayer Should I Use?
F9 BARC: How-To Remove Rust Stains on Pavers
Reviews For: F9 BARC - 1 Gallon
by far the safest product we've ever used for removing those unsightly rust stains. Works safely on numerous surfaces and we've always had amazing results and will continue purchasing!