Gutter Butter 5 gallon #GB-5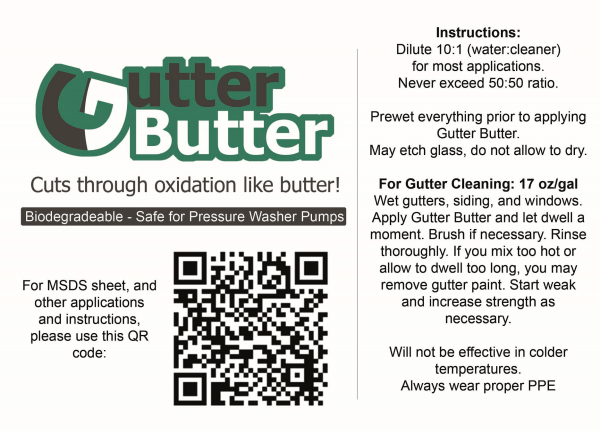 Manufacturer Part Number:
GB-5
$90.00
**This item is not eligible for free shipping.
Warning California Proposition 65
Detectable amount of chemicals known to the State of California to cause cancer, birth defects or other reproductive harm may be found in pressure washing equipment, accessories and exhaust. For More Information Visit www.p65warnings.ca.gov
Gutter Butter is a biodegradable, concentrated cleaner effective at removing oxidation from many surfaces including gutters, siding, metal roofs, and more!
Directions:
Dilute as needed and apply with low-pressure mist. Brush if needed. Rinse thoroughly with water. Can be run through pressure washer pump safely.
Usage Tips:
Prewet surface and surrounding areas prior to use, pay special attention to windows.
Do not allow product to dry on surface.
Always test inconspicuous area. Use in temps above 50 degrees Fahrenheit.
Do not use on polished aluminum. Stucco/dryvit may change color, use with caution.
Always wear appropriate PPE, glove and eye protection.
Dilution Suggestions:
Gutter Brightening – 10:1 (17 oz/gal)
Vinyl Siding Restoration – approx. 24 oz/gal start low and increase as needed
Metal Roof Restoration – approx. 24 oz/gal start low and increase as needed
**SHIPPING NOT INCLUDED**
Gutter Butter Gutter Cleaner Customer Review
Reviews for:
Gutter Butter 5 gallon #GB-5
October 2018
from Indiana, PA
We are gutter butter believers!
We have used many products for stubborn tiger stripes on gutters. Gutter Butter is always on our trucks and the go to product for stripes more and more.
Great Product
After trying many many products, some good, some not so good. Gutter butter is the best ive tried yet. Just did a home yesterday with some rough gutters at the point the homeowner was considering replacement. Not only did the product make cleaning easy it actually brought back a nearly new shine on 15 year old gutters that have never had a professional cleanin.