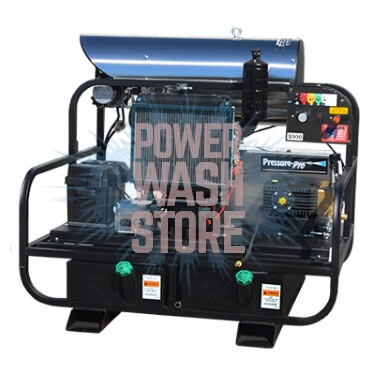 Pressure Pro Pro-Super Skid Series DIESEL Belt Drive 12v HOT 8012PRO-35KLDG
Manufacturer Part Numbers:
8012PRO-35KLDG
SKUs:
8012PRO-35KLDG
Package 1 Dimensions:
Height: 0.00 Inches
Width: 0.00 Inches
Length: 0.00 Inches
Weight: 0 Lb(s) 0 Oz
Warning California Proposition 65 Detectable amount of chemicals known to the State of California to cause cancer, birth defects or other reproductive harm may be found in pressure washing equipment, accessories and exhaust. For More Information Visit www.p65warnings.ca.gov
Shipping Policies
**This item is not eligible for free shipping. You will be contacted shortly after this order to discuss freight shipping charges.
Pressure Pro Pro-Super Skid Series DIESEL Belt Drive 12v HOT 8012PRO-35KLDG
Standard Accessories
Gun/wand assembly with insulated grip and quick connects
50′ high-pressure hose w/ quick connects
Stainless steel 10% chemical injector assembly w/ Stainless steel quick connects
4 color-coded QC spray nozzles
1 color-coded QC chemical nozzle
Available Options
PKW003-C: Wheel Kit
FTK001: Float Tank Kit w/high-pressure chemical metering valve
ESK016: 16'' Exhaust Stack Kit
Standard Features
Rugged powder-coated steel, low-profile frame w/ forklift channels
48″L x 43″W x 48″H frame dimensions offer versatile installation
Super efficient schedule 160 coil
Stainless steel coil wrap, burner hood, and control panel
Onboard twin 12-gallon poly diesel tanks
Reliable Kohler diesel Commercial/Industrial electric start engines
Includes 12-volt battery and marine battery box
Fully self-contained, no external power required
Reliable Beckett burners
Adjustable thermostat
3VX belt system offers balanced power transfer
Engine and pump oil drains offer easy maintenance
Safety pressure relief valve
Related Categories
>

>

>

>

>

>

>

>

>

>

>

>

>

>

>

>

>

>

>

>

>

>

>

>

>

>

>

>
No videos to display at this time.