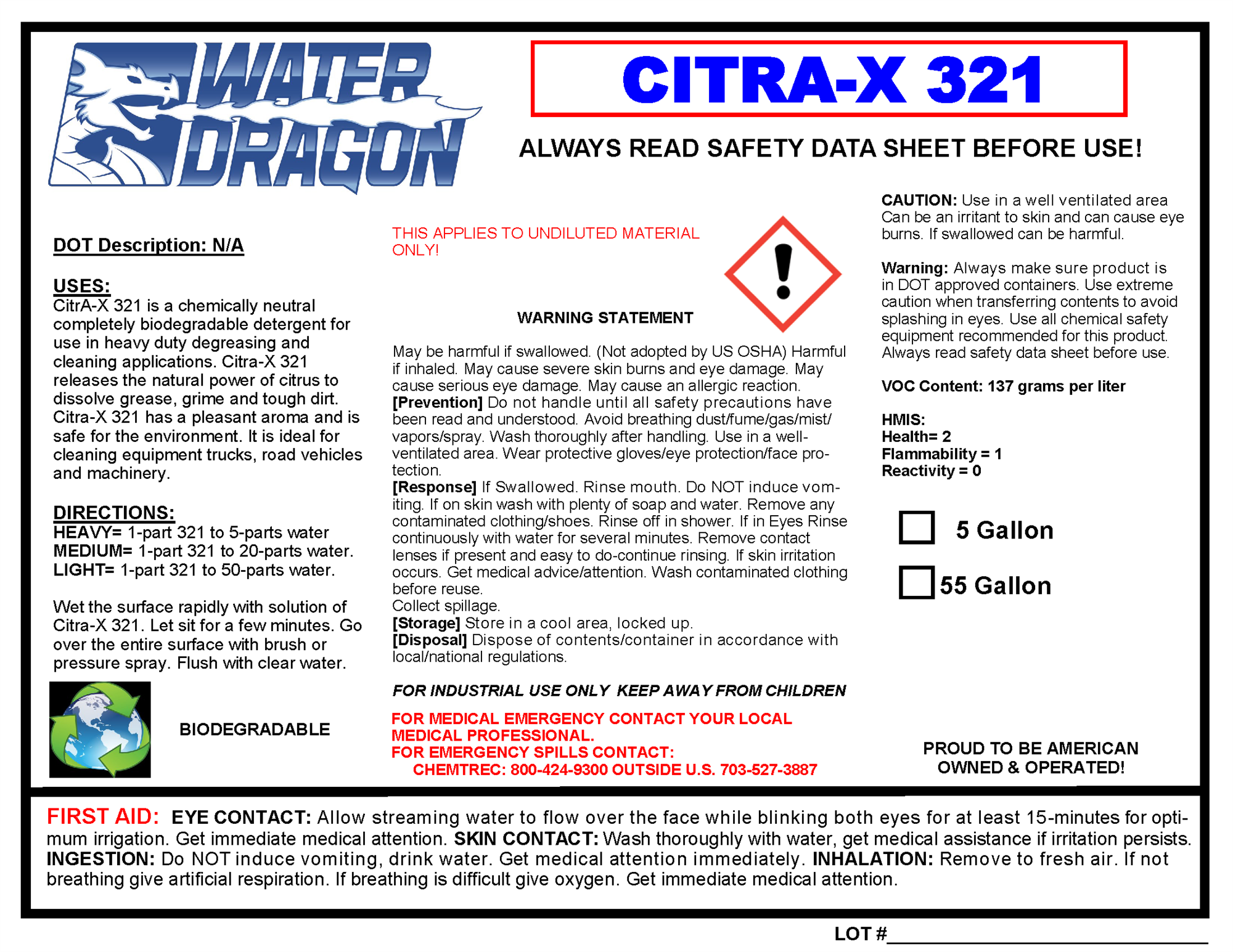 CITRA-X 321 - 55 GALLON DRUM
Manufacturer Part Numbers:
CX321-55
SKUs:
CX321-55
Warning California Proposition 65 Detectable amount of chemicals known to the State of California to cause cancer, birth defects or other reproductive harm may be found in pressure washing equipment, accessories and exhaust. For More Information Visit www.p65warnings.ca.gov
Shipping Policies
**This item is not eligible for free shipping. You will be contacted shortly after this order to discuss freight shipping charges.
WATER DRAGON CITRA-X 321 - 5 GALLON BUCKET
Citra-X 321 is a chemically neutral, non-acid, non-alkaline, natural based heavy duty degreaser. Citra-X 321 is a "green" environmentally friendly degreaser. Works well in food prep areas. Works well as a stand alone degreaser or as an additive to our other detergents. Ozone & Smog = Does not carry ingredients that attack the earth's ozone, or contribute to smog.
Attacks greases, grime, oils, tar, asphalt and other tough cleaning application
Economical per gallon cost
Designed specifically for pressure washers
Designed to work well in cold or hot water
Contains exclusive surfactant system to provide superior cleaning at minimal
detergent usage
Non-Corrosive Fully Biodegradable, Chemically Neutral
Application Directions:
• HEAVY=1part Citra-X 321 to 5-parts water.
• MEDIUM=1part Citra-X 321 to 20-parts water.
• LIGHT=1part Citra-X to 50-parts water.
Wet the surface rapidly with solution of Citra-X 321. Let sit for a few minutes. Go over the entire surface with brush or pressure spray. Flush with clear water.
Related Categories
>

>

>

>

>

>

>

>

>

>

>

>

>

>

>

>
No videos to display at this time.