Apple Wash - 5 Gallon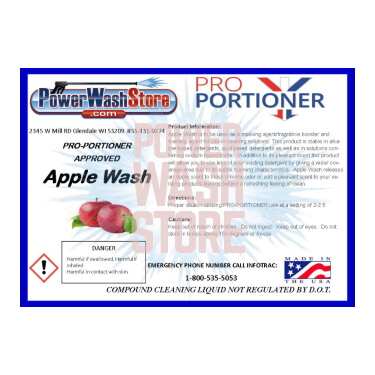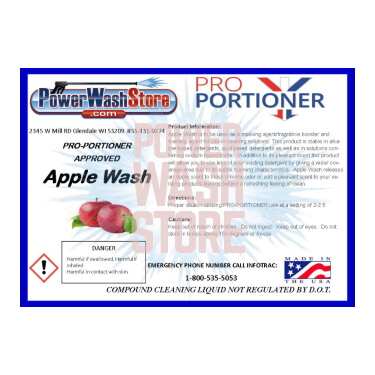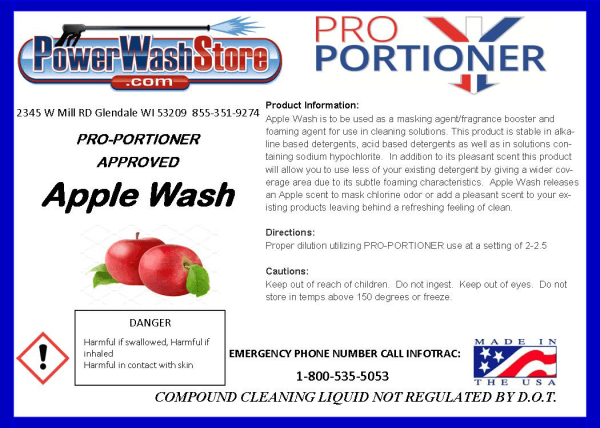 Manufacturer Part Number: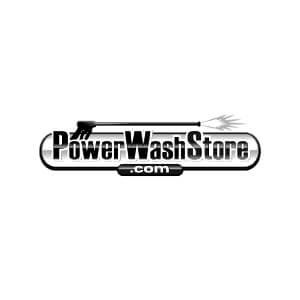 **This item is not eligible for free shipping.
Warning California Proposition 65
Detectable amount of chemicals known to the State of California to cause cancer, birth defects or other reproductive harm may be found in pressure washing equipment, accessories and exhaust. For More Information Visit www.p65warnings.ca.gov
Apple Wash 5 Gallon
Apple Wash is a surfactant, cover scent and colored marker for the soft washing process. Apple Wash is designed to be used with the Pro-Portioner.
When mixed with sodium hypochlorite in the cleaning process the color will disappear in 1-3 min depending on the strength of the SH and how much Apple Wash is used. This serves as both a marker for the application process as well as a built-in timer for dwell time to know when it is ok to rinse the surface.
5 Gallons makes up to 25 Gallons
**SHIPPING NOT INCLUDED
Roof Washing Mix Directions
Batch Mixing – 16 oz. per 25-gallon mix (marker dye will dissipate)
ProPortioner Mixing 3-4 on dial depending on stain level
House Washing Mix Directions
X-Jet – 2-4 oz. per 5 gallon mix (marker dye will dissipate)
10:1 Downstream – 8-10 oz. per 5 gallon mix (marker dye will dissipate)
ProPortioner – 2 on dial
All listed ratios are a suggested starting point. Your application may require adjustment
Reviews for:
Apple Wash - 5 Gallon
February 2019
from Lexington
Apple wash works great!!
We use Apple wash in our booster skid. Just set the ProPortioner at 2 - 4 depending on how strong you want the color and smell to be. Love slinging these APPLES !!!!