Dragon Tail 100' Yellow Non Marking 4000psi Hose - One Wire #1288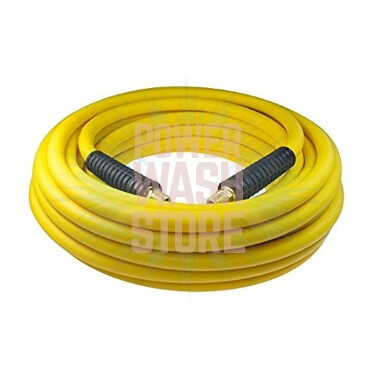 $162.98
$145.00
Rubber construction throughout, with a single layer of steel wire braid, the hose of choice for Heavy-Duty cleaning applications
Dragon Tail 100' Yellow Non-Marking 4000psi Hose - One Wire #1288
100'
3/8"
4000psi
1 wire
220 degrees
Our High-Abrasion-Resistant, Non Marking Yellow Hose. Rubber construction throughout, with a single layer of steel wire braid, the hose of choice for Heavy-Duty cleaning applications. The polyethylene (UHMWPE) coating provides durability and non-marking properties, this has proven to outlast normal type rubber hoses as much as 5 times or more! And this hose is only 9.5LBS!
Features:
Assembled in the USA with high-quality components
This is the Ultimate hose for In Plant/Food Processing or other Heavy-Duty use areas
This hose will not leave marks or scuff marks when dragged across surfaces
Rubber construction throughout
Reinforcement: Single layers of high tensile braided steel – R1 Rating
Burst (Minimum): 4:1 working pressure
Contractor Favorites
Reviews for:
Dragon Tail 100' Yellow Non Marking 4000psi Hose - One Wire #1288
No reviews to view yet. Be the first to leave feedback!