3 - 3.9 GPM Pressure Washers
Pressure washers rated 3 to 3.9 GPM
Pressure washers with a water volume output of 3 to 3.9 gallons per minute (GPM) are typical for most medium-scale applications. These power washers are useful for homeowner tasks such as cleaning siding and decks. Businesses may use these power washers on medium to large scale commercial cleaning jobs. For extra cleaning power on large jobs, consider a high GPM pressure washer with enough PSI for your use case. Homeowners may consider lower GPM pressure washers with high PSI for cleaning non-delicate surfaces like driveways and garage floors.
PRESSURE WASHER BRANDS & CATEGORIES:
---
---
Best Brand Pressure Washers: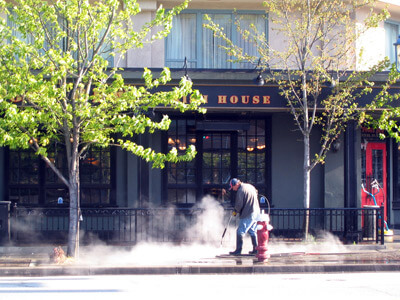 Some Medium to High-GPM Pressure Washer Cleaning Applications:
Cleaning driveways & garage floors
High PSI paint & stain removal
Low-PSI vehicle cleaning
Hot & Cold Water Power Washers
The Power Wash Store carries the best power washers at reasonable prices. While cold water pressure washers are more common, homeowners and commercial users can get more cleaning power from hot water pressure washers without increasing the PSI. For even greater cleaning power, consider using power washing detergent. Detergents remove more dirt and grime without damaging the underlying surface.
---
Related Products:
---