RHG Pressure Washer Equipment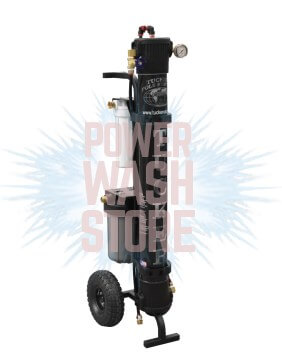 RHG Has the Parts You Need to Succeed
RHG Products makes some of the most functional and easy-to-use pure water cleaning equipment on the market. Their pure water cleaners have telescoping poles that extend to 60 ft. and beyond. A narrow hose in the pole delivers water that has been filtered to remove impurities to a brush head at the end of the pole. With pure water, dirt is washed away and the window dries spot-free without having to use a squeegee.

With pure-water systems, you get professional, spot-free results in less time than with conventional window cleaning systems. You also keep yourself and your crew safer—no perilous perching on a ladder to reach those upper windows.
Window Washing is Easy with RHG Water Fed Poles
RHG water-fed poles are a window washer's dream come true. Their long reach and flexible head allow you to easily clean those tough-to-reach places. Skylights? No problem, the flexible head can easily adapt to clean windows of all shapes and sizes. No place for a ladder? No problem, with up to 60 feet of reach RHG water-fed cleaning poles are some of the best on the market.
Check out these RHG Pure Water System Products at The Power Wash Store: