4 - 4.9 GPM Pressure Washers
Pressure washers rated 4 to 4.9 GPM
Pressure washers with a water volume output of 4 to 4.9 gallons per minute (GPM) are at the high end of average. These power washers are ideal for medium to large jobs and are suitable for home and commercial cleaning. The extra water volume makes quick work of any cleaning job, removing more dirt and grime per minute. Consider hot water pressure washers or add detergent for greater cleaning power.
PRESSURE WASHER BRANDS & CATEGORIES:
---
---
Best Brand Pressure Washers: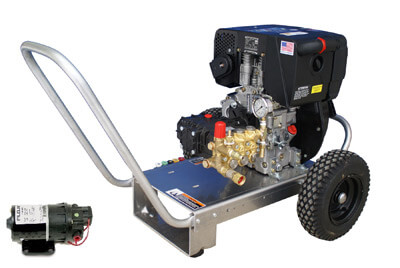 Some Medium to High-GPM Pressure Washer Cleaning Applications:
Cleaning second story siding from ground level
High PSI paint & stain removal
Medium to large scale commercial cleaning
Soft washing
Power Washers, Detergents & Parts
The Power Wash Store carries power washers for anyone from homeowners to contractors. We supply industrial high GPM pressure washers and mid-range GPM pressure washers for large cleaning jobs. These machines can be extremely efficient, especially when paired with detergents. Shop our online catalog for parts and accessories from the best brands.
---
Related Products:
---