Mid-Range GPM Pressure Washers
Pressure washers rated from 3 to 5.9 GPM
Pressure washers with mid-range GPM ratings are common for commercial use, and are sometimes used in heavier-duty home applications. Power washers in this category have a maximum output of 3 to 5.9 GPM and are great for cleaning driveways and for large commercial jobs. These machines dispense a higher volume of water per minute than low GPM pressure washers, enabling operators to clean surfaces in less time.
Best Brand Pressure Washers: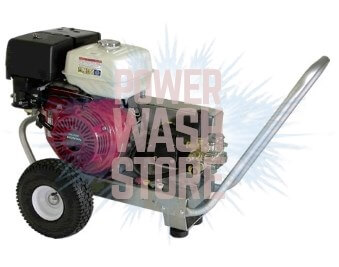 Choosing The Right PSI For Your Mid-Range GPM Pressure Washer
GPM ratings are useful to compare the cleaning efficiency of power washers. When shopping for pressure washers by use case, however, PSI is a more useful metric. For light to medium duty tasks such as washing fencing or vehicles, a PSI rating of 1,300 to 2,400 is usually sufficient. Heavy-duty tasks like stain removal or paint prep will require a higher PSI of 3,000 to 3,500. Stripping paint or stains may require a PSI rating of 4,000 or higher.
Some Mid-Range GPM Pressure Washer Cleaning Applications:
Cleaning your fences

Washing your siding

Cleaning your driveway

Washing your roof
Browse our Online Pressure Washer Catalog
The Power Wash Store's extensive selection of pressure washers guarantees you'll find the right electric or gas-powered machine for any job. We carry power washers with high GPM, mid-range GPM, and low GPM ratings that can output high or low PSI streams. Choose cold water units or get extra cleaning power with warm water & detergent power washers.
---
Related Products:
---