Mosmatic Surface Cleaners & Pressure Washing Equipment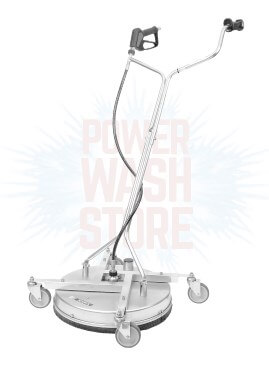 Mosmatic Commercial Surface Cleaners
Part of the Swiss company Mosmatic AG, the Mosmatic Corp. serves the US market with a line of high-pressure cleaning products for the commercial cleaning industries--from systems for cleaning undercarriages to specialized dust removal tools. They're best known for their flat surface cleaners, though.
Mosmatic Cleaners Available at the Power Wash Store
The Power Wash Store carries the full line of Mosmatic cleaners and parts, including the Mosmatic Professional Recovery Surface Cleaner 21" and Mosmatic Professional Recovery Surface Cleaner 30". Both offer fantastic cleaning power as well as reclamation of wastewater to keep you working longer with less mess. The Mosmatic Contractor Surface Cleaner 30" provides the same results as the Professional series without the built-in ability to reclaim wastewater.
Swivel Nozzles from Mosmatic
A Mosmatic swivel nozzle is an excellent choice for cleaning tasks due to its exceptional functionality and efficiency. The swivel nozzle's rotating feature enables you to effortlessly navigate and target every hard-to-reach places making them very effective at cleaning exhaust hoods.