PWS Contractor Series Belt Drive 5.6@2500 #PWS-5525HG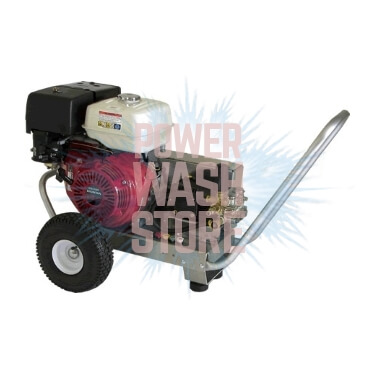 $1,225.70
Eagle Series Pressure Washer - Rated for 5.6 gpm @ 2500 psi. GX390 Honda engine
PWS Contractor Series Belt Drive 5.6@2500 #PWS-5525HG
Gas engine Belt Drive - Pumps turn at lower RPM allowing for a better draw from the tank, as well as producing less pump wear.
Rated for 5.6 gpm @ 2500 psi. GX390 Honda engine, HP Pump
STANDARD FEATURES
Painted steel frame
Lifetime frame warranty
Heavy duty HP Pump
50 mesh inlet filter
Adjustable pressure unloader
Low oil shutdown
Pneumatic tires
Dual padded shock absorbing feet
3/4" cold-rolled steel axle
Thermo-sensor (prevents overheating in bypass mode)
Commercial /Industrial grade engines
STANDARD ACCESSORIES
All units are completely factory assembled, tested in the USA, and delivered ready to operate.
*freight not included
Reviews for:
PWS Contractor Series Belt Drive 5.6@2500 #PWS-5525HG
May 2017
from Ferndale, MI
Great Machine!
Great all around machine. House wash monster!